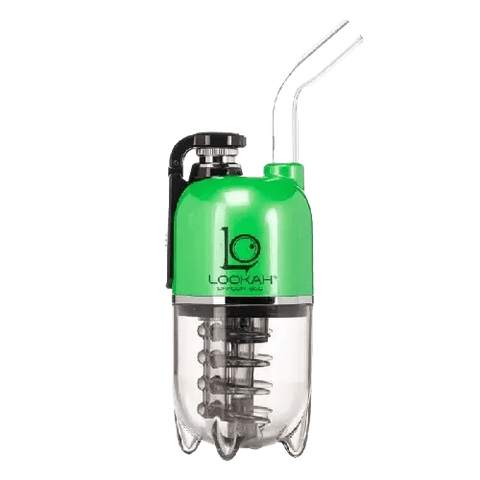 Lookah Dragon Egg
Introducing the Lookah Dragon Egg Portable Electric Dab Rig – Where Innovation Meets Performance!
Unleash the power of advanced dabbing with the Lookah Dragon Egg, a cutting-edge portable electric dab rig that takes your vaping experience to new heights. Crafted with precision and designed for ultimate convenience, this sleek device combines state-of-the-art technology with a stylish aesthetic, making it the perfect companion for both seasoned enthusiasts and newcomers alike.
Key Features:
Revolutionary Design: The Lookah Dragon Egg stands out with its innovative design that mimics the allure of a mythical dragon egg. Its compact and ergonomic shape fits comfortably in your hand, providing a unique and enjoyable dabbing experience.

Advanced Heating Technology: Experience rapid and precise heating with the Dragon Egg's advanced heating element. The device boasts a state-of-the-art atomizer that ensures your concentrates are vaporized efficiently, delivering robust and flavorful hits every time.

Customizable Temperature Control: Tailor your dabbing experience to perfection with the customizable temperature control feature. Whether you prefer lower temperatures for flavor preservation or higher temperatures for powerful hits, the Dragon Egg allows you to find your ideal setting effortlessly.

Portable and Rechargeable: Take your dabbing sessions on the go with the Dragon Egg's portability. The rechargeable battery ensures that you have the freedom to enjoy your favorite concentrates anytime, anywhere. No need to compromise on performance when you're away from home.

User-Friendly Interface: Designed with simplicity in mind, the Dragon Egg features an intuitive interface. Easily navigate through temperature settings and power controls, allowing you to focus on what matters most – your vaping experience.

Premium Build Quality: Crafted with durability in mind, the Lookah Dragon Egg is made from high-quality materials that ensure longevity and reliability. The sturdy construction paired with a stylish finish makes it a standout in the world of portable dab rigs.

Complete Kit: The Dragon Egg comes with everything you need for a seamless dabbing experience. The comprehensive kit includes the dab rig, rechargeable battery, USB charging cable, and cleaning tools, ensuring you have all the essentials at your fingertips.
Embark on a journey of flavor and convenience with the Lookah Dragon Egg Portable Electric Dab Rig. Elevate your dabbing game and make a statement with this unique and powerful device. Order yours now and experience the future of portable dabbing!